Welcome to Travelor!
The

Social Revolution
in the world of travel
Join our entrepreneur community and start earning today!
Travelor is the first company in the world established by a group of driven entrepreneurs, who are spearheading a revolution in the tourism world. When a group of people join together, there's no limit to what can be achieved! It's called SOCIAL POWER. With our social power we build an international leading brand, and share the profits from every deal sold on Travelor website.
Significantly reduce vacation prices worldwide.
Creating substantial income and economic welfare to all Travelor agents.
Promote 1 brand together and share the profits.
To become a leading international brand, we need to focus in 2 major elements:
Build a brand: Marketing, advertising and promoting Travelor worldwide.
Attractive prices: To acquire the best prices!
One of the most important things we need in order to become a leading brand is to create trust between Travelor company and its customers. The way doing it is by right advertising and branding of Travelor. Right branding creates reliability in front of the customers, feeling secured booking their vacation with us. Travelor is using the massive budget it gets from the monthly contribution of each agent to promote and brand Travelor, therefore, increasing the agents profits!
Together as a group, we have massive buying power! This is how we get the most attractive prices. Moreover, our social power allow us to work with minimum operational expenses, giving us a huge advantage against our competitors. We roll the savings back to our customers, ensuring the most affordable price for their vacation! Travelor already have thousands of satisfied customers around the world. Today, Travelor website already holds the most attractive prices in the market, ensuring the best prices possible.
The way promoting Travelor lies in our social power. Social power is the strongest power in the world! We promote Travelor website in every search engine and in every language. Therefore, for every search for hotel or destination anywhere in the world, Travelor will appear on the first results! Doing this will certainly keep our sales growing significantly. Travelor agents also promote Travelor on social media, so we reach every person in the world! And all of this is happening for free! Using our social power.
These days, anyone can join the opportunity Travelor provides and enjoy Travelor success. But know this! Travelor limits the amount of agents approved to join, with the purpose of ensuring the profitability of all agents. When Travelor won't need more social power to grow, the opportunity will end! If you want to lead the revolution together with us, if you understand the huge financial opportunity being offered, hurry to join us today.
How is Travelor obtaining the best prices?
Travelor works directly with the hotels and is connected to hundreds of suppliers around the world, from the biggest ones to the smallest ones. Our search engine compares the prices we recieve and offer the best deal to the customer. And so Travelor commits to always obtain the best price for the customer.
Get commission for every sale on Travelor site!
Every agent starts earning immediately from every sale being made on Travelor website, even if he didn't sell anything himself! Travelor share up to 80% of the profit of every deal to all Travelor agents. Our goal is to unite all Travelor agents to work together for Travelor success, so everyone are profiting from it!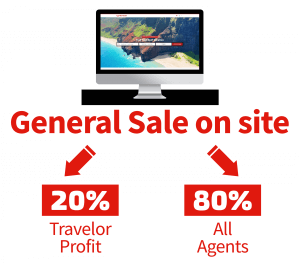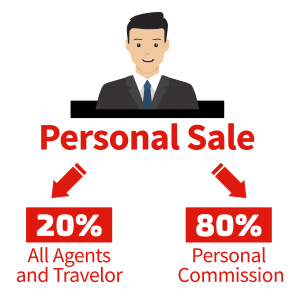 Commissions for personal sales
Every Travelor agent gets a personal link to Travelor website. You can make reservations to your customers using your personal link, or promote it on the internet and get commissions for every sale. You get 80% of the profit for every deal sold! Travelor provides full tutorials, tools and personal support to encourage you succeeding in making sales.
Commissions for referring new agents
Travelor goal is to become a leading brand worldwide with the help of Travelor social power. To achieve this goal, Travelor needs big enough social power to promote the brand around the world. For every new agent that joins by you, you will get $50 one-time commission. For managing a team management you will get $50 fixed monthly commission for every agent on your team. This to encourage your support in their success!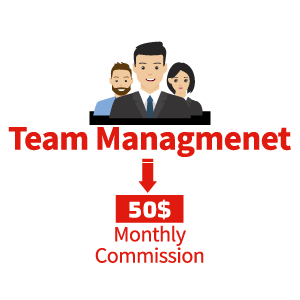 A peek to what can be achieved with Social Power
Get your immediate access to your new business!
Join as an Agent
Special Discount!
$
500
Registration fees
150$ Monthly Payment
Commission on each transaction through the wesite or application

Perception of a fixed monthly payment for team management
Join as an Agency
Private Label!
$
1,500
Registration fees
150$ Monthly Payment
Commission on each transaction through the website or application

Perception of a fixed monthly payment for team management

Possibility of benefiting from an additional commission on the sale with a service

Possibility to create the design of your site and a logo on your personal page
SILVER
Prepaid For 6 Month $1,200
Renewable every 6 months
Prepaid For 12 Month $1,800
Renewable every 12 months
PLATINUM
Prepaid For 36 Month $4,500
Renewable every 36 months
1 MONTH
1 Month Commitment Renewable
6 MONTH
6 Month Commitment Renewable
Have a question? We are here to answer!
Have a question?